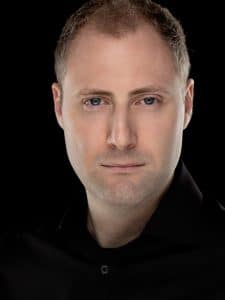 American conductor, Andrew Neer (b. 1982), was born in Tucker, Georgia and has lived in Michigan most of his life, currently residing in Grosse Pointe, Michigan with his wife, Mary Lynn. He is quickly becoming known for his dynamic and expressive conducting style. His lifelong passion for music began studying piano at the age of five and continued through private study in piano, voice, and trumpet. He was very active as a young musician performing on many stages.
In 2000, Mr. Neer began at Central Michigan University (CMU) studying Composition, Trumpet and Music Theatre Performance. In his time at CMU, he had the privilege of studying with Dr. Eric Hoy Tucker (voice), Dr. Timothy Caldwell (voice), and Dr. Dennis Horton (trumpet). Though his main focus was on performance and singing, he composed throughout his undergraduate work. In addition to his private instrument instructors, Mr. Neer was privileged to work with composers Scott R. Harding, Jose-Luis Maurtua, and David R. Gillingham.
As a composer, Mr. Neer began with a great undertaking writing a spectacle in honour of those lost in the United States Civil War The Battle Grounds for Symphonic Wind Ensemble. He has since composed original underscores for several theatrical productions including Moliere's Tartuffe and sought out collaborations on a short ballet A Mother's Love. He was honored to write music for critically acclaimed performers Dr. Eric Hoy Tucker (Southern Salute) and Dr. Alexandra Mascolo-David. In addition, he has been honoured to compose music for several short films that have toured the independent film competitions.
In 2008, Mr. Neer began coursework for a Master of Music (MM) in Composition/Theory at Wayne State University in Detroit MI. While attending Wayne, he had the pleasure of working under the composition instruction of Dr. James Hartway. In his work with Dr. Hartway, he refined his technique and built upon his "American" sound mixing atonality, serialism, and tonal music. He composed several works for voice, including the song cycle The Village as well as works for chamber and symphonic orchestra. While writing his thesis work for orchestra, Remember Us, he fostered a new found passion for conducting. Upon completion of his Composition degree, he immediately began pursuit of a second MM in Conducting.
In 2011, Mr. Neer began coursework for a MM in Conducting. In his work, he studied with musicologist Dr. Eldonna May and Theorist Karl Braunschweig. He was given the opportunity to prepare and conduct the choruses for Mozart's Requiem and Handel's Messiah. In addition, he was the graduate assistant for the WSU Symphonic Wind Ensemble and assisted with the instruction of the Warrior Marching Band. He was also asked to conduct the opera productions, including Mikado by Gilbert & Sullivan.
In the summer of 2013, he had the exquisite opportunity to conduct Verdi's La Traviata for Michigan Opera Theatre, receiving high acclaim. He always had a deep appreciation for opera; however, this opportunity ignited a great passion for opera and Mr. Neer has since conducted performances of Verdi's Rigoletto and Mozart's Cosi fan tutte. He is a firm believer that opera has great power to embrace all aspects of music and performance by attracting the very greatest vocalists and instrumentalists in one centralized location.
In early 2016, he embarked on an international conducting career, appearing with orchestras in Romania and Bulgaria. Later that year, he won the post of Music Director at Redford Civic Symphony Orchestra. Here, he quickly expanded the size of the orchestra to allow them to perform works and programs at a level not yet attained. Since, he continues to work diligently to expand his experience and inspiration. Believing that music is the cornerstone in building community, he assembled a 60 member professional orchestra in Metro-Detroit MI to raise funds for the Hurricane Relief Fund in fall of 2017, raising just over $14,500 for the cause. This performance led to his appointment as Music Director of the Birmingham Bloomfield Symphony Orchestra (MI), now called Orchestra Sono. In 2018, he earned to position of Artistic Director / Conductor of Oakland Choral Society. He is greatly honored to lead these fine organizations and greatly appreciates the trust they have bestowed upon him.
He has studied privately with orchestral conductor and mentor Kenneth Kiesler, in addition to Douglas Bianchi (wind ensemble), and choral conducting with Dr. Norah Duncan IV. Fall of 2020 marks the star of the next chapter for Mr. Neer as he will attend the world renown University of Michigan to earn a Doctorate of Musical Arts in Orchestral Conducting. In his spare time, he loves to cook and spend time with his wife, Mary Lynn and their dogs.
Recently, Mr. Neer has been working to expand awareness of classical music and the positive impact orchestral and choral music have on society. He is honored to serve as the Artistic Director/Conductor of Oakland Choral Society (Bloomfield Hills MI), Orchestra Sono (Bloomfield Hills, MI) and the Redford Symphony Orchestra (Redford MI). He holds Master of Music degrees in Composition and Conducting from Wayne State University, Detroit MI. He is an active member of ASCAP, The Conductors Guild, League of American Orchestras, College Orchestra Directors Association (CODA), The Society of Composers International, and alumni to Phi Mu Alpha Sinfonia. He aspires to create new music and opportunities to share music with anyone who may not normally experience orchestral and opera repertoire. He is ever thankful to his wife and parents for their constant support!
For information on upcoming performances, please visit the "events" section of this website!